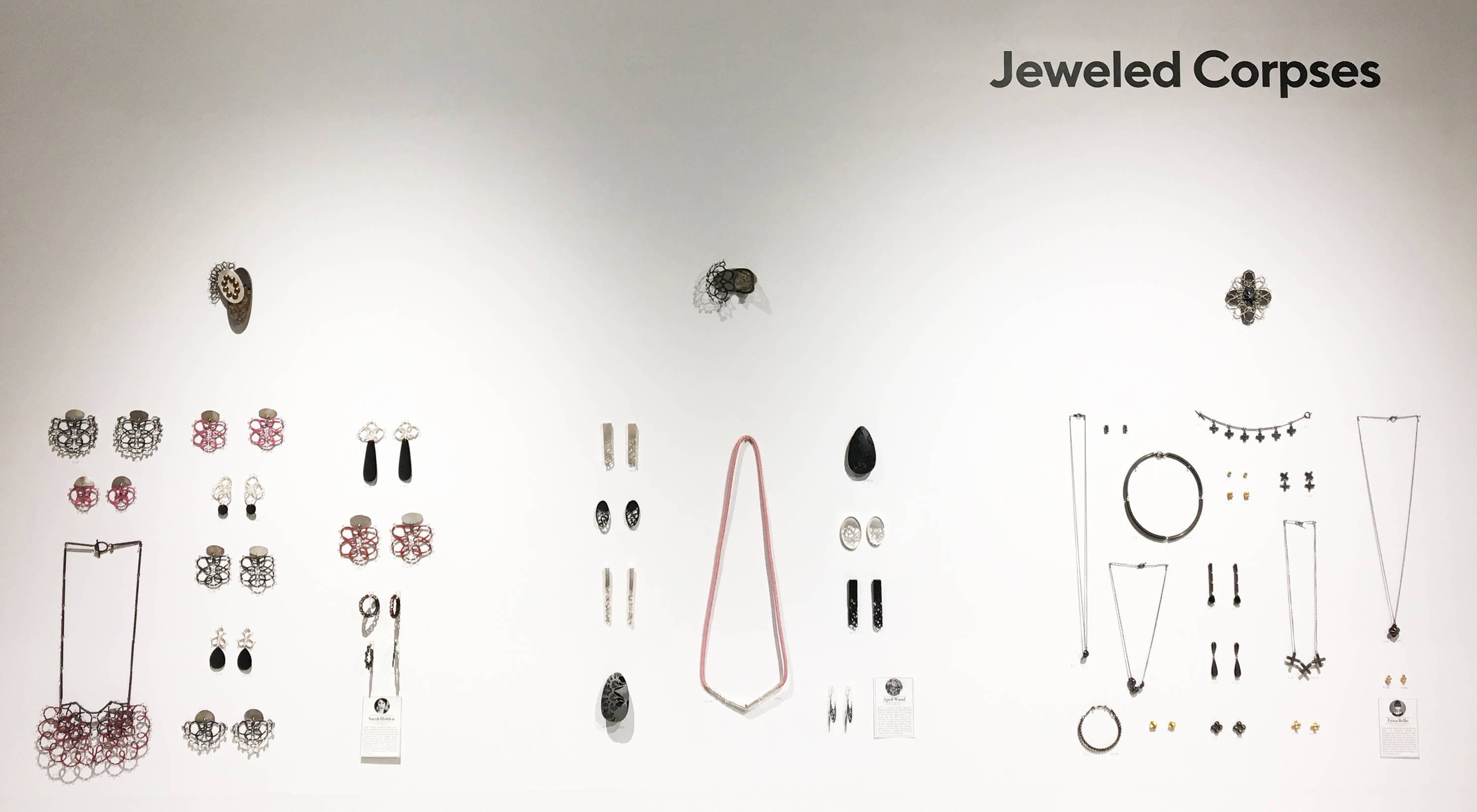 Jeweled Corpses
Erica Bello, Sarah Holden & April Wood
November 3 - December 31
Opening Reception: November 3, 6-10pm (Main Gallery)
Lillstreet gallery is proud to host the Midwest debut of Jeweled Corpses, a travelling exhibition from metalsmiths Erica Bello, Sarah Holden and April Wood. With jewelry as their platform, these talented makers take on the surrealist parlor game of cadavre exquis, or "exquisite corpse." Three, one-of-a-kind, collaborative pieces of jewelry and selections from their individual production lines will be on display. Please join us Friday, November 3, from 6-10pm for concurrent receptions celebrating the opening of Jeweled Corpses and the closing of On the Rocks.
Erica Bello studied metals/jewelry design at the Rochester Institute of Technology's School for American Crafts where she received her BFA. In 2014 Bello won the Halstead Grant for emerging artists. The grant allowed Erica to pursue a career as a full time studio artist, and the following year she was invited to participate in Sparkle Plenty at Quick Gallery, and Jewelry Edition. Erica currently resides in Baltimore, MD and works as the Studio Manager at the Baltimore Jewelry Center.
Sarah Holden received her MFA in Studio Art with a focus in Jewelry and Metalsmithing from the University of Wisconsin, Milwaukee and her BFA in Crafts/Material Studies and Sculpture from Virginia Commonwealth University. Sarah has presented as a visiting artist at The School of the Art Institute of Chicago, The University of Wisconsin, Whitewater and taught as a Metals Instructor for The Penland School of Crafts, The Chicago Industrial Arts and Design Center and Northeastern Illinois University. Sarah's limited production jewelry can be found at several craft galleries across the US. Sarah currently lives in Chicago where she works as a studio artist, metals instructor and mama.
April Wood is a metalsmith living and working in Baltimore, MD. She is a co-founder of the Baltimore Jewelry Center, a metals + jewelry community education space in Baltimore city, where she is Studio Manager, Exhibitions Director, and an Instructor. She received her BFA in Studio Art, concentrating in Metals/Jewelry from Texas State University – San Marcos and her MFA from Towson University. She has taught at the Maryland Institute College of Art, the Corcoran College of Art and Design, Penland School of Crafts, Idyllwild Arts Academy, and Towson University. Her work has been featured in Metalsmith, Surface Design Journal, and Sculpture. She exhibits her work nationally and internationally, including a solo exhibition at the Austin Museum of Art and SIERAAD International Art Jewelry Fair in Amsterdam.